Administrator
Administrator
Joined

Sep 6, 2020
Messages

174
Reaction score

32
Happy Thanksgiving! The selected Jam theme is
Depths
!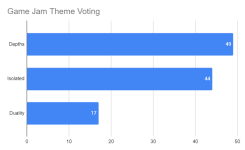 You may start now, the jam will end December 8th, 4:35 pm EST. We'll be opening signups near the end of the jam. That way, you won't have to worry if you don't finish your plot in time, or your team undergoes member changes
Please only submit plots that you are content with.
Each team will have a limit of 4 members, including yourself.
Game Jam Rules​
No external compiler tools are allowed

This means that you are not allowed to use a tool that allows you to input code or text to convert it to a DiamondFire template. Simply: you can only use your game client. Example: a library allowing you to convert your Java code (or code from another programming language) to a template is not allowed

Templates are allowed, but there is a limit! It is up to a certain threshold:

It must be widely applicable to the community. This means it needs to be able to be used in a wide variety of games!

This will be checked by event referees/admins
It is up to your best judgement. If you're unsure, please ask a referee. You can find a referee in the DiamondFire Events Discord server
Example: Things like code-utils song code would be fine

While you can use functions or processes from a template in order to help start the plot, purely using templates just to finish the plot is not allowed. Templates are here to help you, not to do the plot for you

Your plot must be a new (or cleared) plot before starting! You cannot work on an existing one in progress
Support sessions are allowed, but please don't overuse them. If you are trying to get your plot finished from support sessions—you will be disqualified. Use it in moderation
Game Jam Judging Categories
​
Fun value/Entertainment - 30
How fun the game is to play, the overall gameplay.
Theme connection - 20
How closely the game fits the theme
Originality -20
How original or innovative the game is.
Code Quality - 10
How good the user experience is in terms of bugs and LagSlayer.
Visual Design - 10
How good the game looks. Applies to both builds and polish.
Gameplay design - 7
How well designed the gameplay elements are.
Sound Design - 3
How good the game sounds.