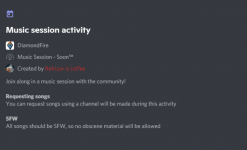 Hey everyone,
This upcoming Wednesday, I will be hosting a music session over at DiamondFire's Discord community server.
>
Information
Times
:
1:30 PM PST,
3:30 PM UTC,
4:30 PM EST.
You can convert the times using your own timezone by clicking here
, or clicking on the Events tab over the Discord server. The community will be able to suggest songs or add them to the queue. Keep in mind that any NSFW or obscene material will result in removal from the activity and potentially future activities like this, so it must be kept as clean as possible.
See you guys there!